Our caring team at A Caring Place Dentistry loves welcoming patients of all ages to our office! When you visit us, we keep our focus on you and your needs, and we go out of our way to help you feel comfortable by explaining what is needed and why and provide you with a written treatment plan. We are dedicated to making your experience with our dentist as pleasant and stress-free as possible and to helping you achieve a beautiful smile that you can enjoy for a lifetime. Please call us at 520-809-6100 to make your appointment and learn more about dental care in Tucson, Arizona. We look forward to meeting you soon!
Pam – Office Manager
Pam has been with our team at A Caring Place Dentistry for 15 years. She earned her Bachelor of Science degree at BYU and completed her MBA at the University of Phoenix. She has also completed many training seminars on dental practice management and dental technology. For Pam, the best part of our practice is our constant focus on giving our patients the best experience possible. Dr. Walbom always gives patients an honest evaluation of their dental needs and keeps their best interests in mind. His many years of experience in all aspects of dentistry allow him to diagnose and treat even the most complicated cases. He was trained at the number-one dental school at the country, USC, where the motto was "do over until you get it perfect." This motto exemplifies the way he practices dentistry.
Pam has three grown children and five grandchildren who are the joy of her life. She loves decorating and doing crafts, and she can often be found decorating the office for holidays to make it a fun place for both our team and our patients. She is also working on compiling digital photo albums for her children.
---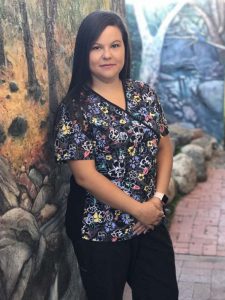 Christine – Receptionist Insurance Coordinator
Christine joined our team in March 2008. She earned her high school diploma at Tucson High School, and she is a certified dental assistant. Christine schedules appointments and helps our patients understand their insurance. She also helps anyone around the office as needed. She is highly knowledgeable, with a thorough understanding of dental procedures and dental insurance and she is endlessly patient and understanding with everyone who comes into our office. Our patients consider her a friend and she enjoys the relationships she builds with our patients and team.
Christine is the proud mother of two children. She is a soccer mom and enjoys going to sports                                                        games.
---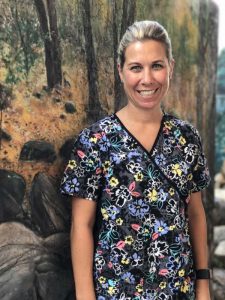 Stefanie – Hygienist
Stefanie is our dental hygienist and has many years of experience, as she has been a practicing hygienist since 1997. She is very passionate about her work and always does her very best for each patient.
She is originally from Montreal, Quebec, Canada, and has been living in Tucson for seven years. She enjoys running, hiking, golfing, and many other outdoor activities, as well as being an avid reader. When she is not in the office, she leads a full and busy life with her two beautiful daughters. She is committed to your health and happiness.